CSHP Nova Scotia Branch
Save the Date!
CSHP NS Branch Education Day & National CSHP AGM
Social Event
Friday October 4th 2019
7 pm - 11 pm
Wooden Monkey Dartmouth
Music by Paul Lamb (8 time ECMA winner)

Education Day & AGM
Saturday October 5th 2019
8 am - 4 pm
DoubleTree by Hilton Dartmouth
Free for NS CSHP members

Stay tuned for further details!
Pharmacist Clinical Experience Program
New 2019 Information and Application available!
Information for the Clinical Experience Program is now posted in the Membership section. Please read the information provided and consider applying for this exciting opportunity!
The awards committee would like to highlight some of our members that were honoured at CSHP PPC with National Awards. Nova Scotia was well represented!!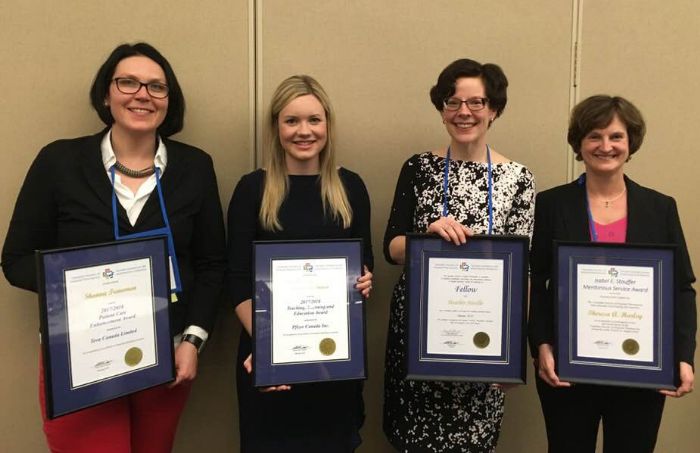 Special Awards
Isabel E. Stauffer Meritorious Service Award
presented to Theresa Hurley
Given in recognition of prolonged service to and involvement in CSHP, by a Member of the Society, as exemplified by significant, sustained contributions primarily at the Branch or Chapter level.
General Awards
Patient Care Enhancement Award
presented to Shanna Trenaman
"A Cohort Study to Identify Risk Factors for Drug-Related Emergency Department Visits in Older Adults" (completed at Nova Scotia Health Authority and Dalhousie University, Nova Scotia)
Teaching, Learning and Education Award
presented to Tessa Lambourne and Laura V Minard
"Optimizing Patient Education of Oncology Medications: A Patient Perspective" (completed at Victoria General Hospital, Halifax, Nova Scotia)
CSHP New Fellow
presented to Heather Neville – Nova Scotia Health Authority (Central Zone)
Conferred to members who have demonstrated noteworthy, sustained service and excellence in the practice of pharmacy in an organized healthcare setting
We would also like to recognize recent Branch Award Winners:
Nova Scotia and New Brunswick CSHP Pharmacy Practice Residency Award
presented to Tessa Lambourne
"Optimizing patient education of oncology medications: A patient perspective"
2018 Nova Scotia Pharmacy Student Scholarship
presented to Nada Toulany
Conferred to Nova Scotia pharmacy students who demonstrate a marked interest in hospital pharmacy practice.
Congratulations to all!