Canadian Pharmacy Residency Board (CPRB)
Residency Programs
Through structured rotations in pharmacy practice, education, research, and administration, residency programs aim to prepare pharmacists for challenging and innovative pharmacy practice. Graduates of pharmacy residency programs are an important source of highly qualified pharmacists trained in institutional practice.
A hospital pharmacy residency program is typically a 12-month directed postgraduate learning experience. The Université Laval and University of Montreal both offer university-based, clinical Masters Programs over an approximate 18-month period; these programs are accredited by the CPRB. The application process for each of these programs is facilitated by the respective universities (applicants do not use the PRAMS).
Consider a residency program accredited by the Canadian Pharmacy Residency Board!
There are over 30 accredited programs in Canada, representing more than 100 graduates per year. The majority of these programs are designed as year 1 residency programs. Year 2 residency programs may be completed after successful completion of a year 1 residency program. CPRB-Accredited Residency Programs may choose to confer the designation "ACPR" to graduates of their residency program.
Accreditation Standards
For the most up-to-date versions of our Accreditation Standards, please visit our Standards page here. 
Guiding Principles
CPRB Guiding Principles for Residency Programs in the Era of COVID Pandemic Planning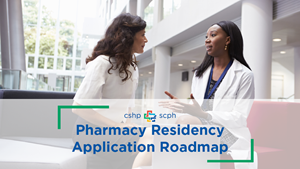 Interested in applying to a pharmacy residency program?
To help you navigate the competitive process CSHP is offering an online course, the Pharmacy Residency Application Roadmap. Start with a free session on "Making the Pharmacy Residency Choice," then move on to the paid portion of the course to hone your practical skills in areas such as mock interviews and personal branding. You will also get a chance to have both your Curriculum Vitae (CV) and Letter of Intent (LOI) reviewed by a practicing pharmacist and receive individualized feedback -- all to help you present your best self with ease and confidence. 
---
Read the latest edition of the RB News online!