For Applicants
PRAMS opened for the 2022-2023 cycle on August 8, 2022. The deadline to apply to a residency program is October 14, 2022 at 11:59pm EST. 
A complete directory of the accredited programs, directors, residency coordinators, and current residents is available here. There are over 30 accredited general hospital pharmacy residency programs representing more than 100 graduates per year. Several specialty residency programs are also offered or under development.
Applications to accredited Canadian programs outside of Québec are processed using Pharmacy Residency Application and Matching Service (PRAMS), a centralized (single-point of entry), online program.
*Programs in Québec do not select candidates using PRAMS.
How to Apply:
Create an account with PRAMS (on or after August 8, 2022) 

(Please note: The PRAMS application performs best in a current Chrome browser.)

Complete the online application, which includes uploading transcripts in PDF format and requesting three references online.
Select the programs you want to have access to your application. When you select your first program, you will be prompted to pay the initial registration fee and per-program fee.

The identity of all programs to which you have applied will be disclosed to those programs.
Only programs to which you have applied will have access to that information and your application*.

Pay the registration fee(s).

(Please note: refunds are not available for registration fees)

Ensure that your application is complete by the October 14, 2022 deadline, including completion of three references and checking if programs require additional required documents other than what is in the application.

If needed, you may cancel a reference request and select a new referee.
Applicants will not be able to read the comments provided by the referees.
Incomplete applications will not be accepted – no exceptions.

Once your application is compliant, your Dashboard notice will turn green. No submission is needed; your selected programs will receive your application after the application deadline.
Programs will be able to communicate directly with you, via the email address you provided in PRAMS. Please ensure that your email address has been inputted correctly.
Finish ranking your programs no later than January 6, 2023.
Overall application process and key dates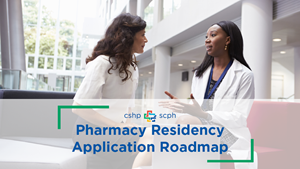 Interested in applying to a pharmacy residency program?
To help you navigate the competitive process CSHP is offering a new online course, the Pharmacy Residency Application Roadmap. Start with a free session on "Making the Pharmacy Residency Choice," then move on to the paid portion of the course to hone your practical skills in mock interviews, personal branding workshops, and essay reviews with individualized feedback from successful residents -- all to help you present your best self with ease and confidence. 
*Applicants may elect to allow their information to be disclosed to other programs in the event that they do not receive a match through PRAMS. There will be a checkbox where applicants can indicate their preference in the PRAMS application.